Board of Directors
Our goal is to ensure the progressive advancement of the medical and economic success of our company. To enable our medium-sized family business from Iserlohn to succeed at an international level, we have focussed on strengthening our company management team. We have added two directors with a wealth of experience and competence to assist with our long-term company planning and to make a personal contribution in transforming our visions into reality.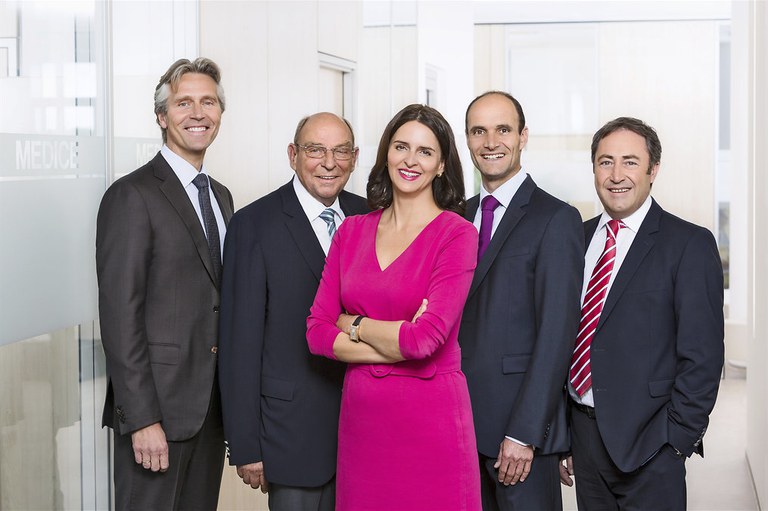 [Left to right] Dr. Jürgen Kreimeyer, Dr. Sigurd Pütter, Dr. Katja Pütter-Ammer, Dr. Dr. Richard Ammer, Eric Neyret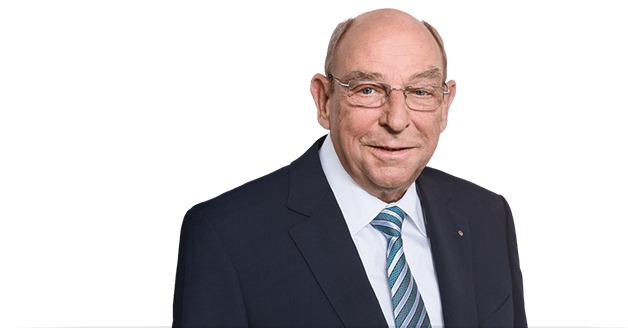 Dr med. Sigurd Pütter
Dr Sigurd Pütter is a member of the Board of Managing Directors of MEDICE.
Born in 1942, Dr. Sigurd Pütter's initial higher eduction after completing school was in basic business training, but he went on to study medicine in Bonn and completed his PhD in Tübingen.
He came to work at MEDICE in 1970. After the death of his father, Gustav Pütter, in 1977, he took over the management of the business as the sole director and built it up to its present size.
In 1982, the senate of Tübingen University bestowed on him the title of Honorary Senator for services rendered both within the university and beyond to the advancement of medical research and to continuing medical education in his region.
Dr. Sigurd Pütter is also fully involved with a number of honorary appointments. He is, for example, Vice-Chair of the South Westphalia Chamber of Commerce and Industry and Chair of the business initiative Pro A46, campaigning for greater motorway transport connections between Iserlohn and Arnsberg. He was also a board member of the Bundesverband der Pharmazeutischen Industrie e.V. (BPI) [the German Pharmaceutical Industry Association] for twenty years.
In 2013, Dr. Sigurd Pütter was awarded the German Order of Merit for his outstanding commitment both to the economy and to the common good.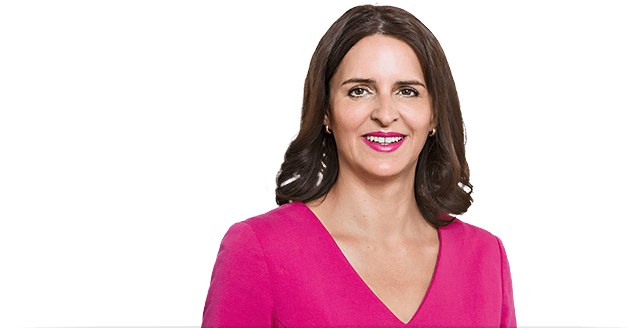 Dr med. Katja Pütter-Ammer
Dr. Katja Pütter-Ammer has been a member of the Board of Managing Directors of MEDICE since 2001.
Dr. Katja Pütter-Ammer was born in 1967 in Iserlohn. She is a medical doctor with a further qualification as Master of Science in Pharmaceutical Medicine.
After her studies, she worked as a doctor at Munich University Hospital and then moved to Boston to do research at Tufts University, where she was also awarded Harvard University's Certificate of Studies in Business and Administration.
She subsequently switched her career direction to work in clinical research in the pharmaceutical industry.
Since 2010, Dr. Katja Pütter-Ammer has been a member of the task force "Marke im Pharmamarkt" [Brands in the Pharmaceutical Market].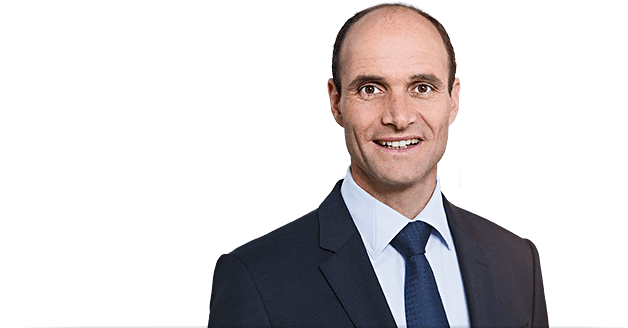 Dr med. Dr. oec. Richard Ammer
Dr. med. Dr. oec. Richard Ammer is active as managing owner, as general manager since 2003 responsible for search & development, medical & regulatory affairs, manufacturing, market access and international marketing & distribution. 
Dr. Richard Ammer was born in Munich in 1970 and is a graduate in human medicine and business administration.
Following his medical studies in Munich and Boston, and his clinical and scientific training at Harvard Medical School, Massachusetts General Hospital, he pursued his clinical education in internal medicine at the German Heart Center in Munich and at the University Hospital in Münster. He completed his studies in business administration and economics at the University of St. Gallen and Harvard Extension School.
Dr. Ammer won the Young Investigator Award 2001 in Basic Science, awarded by the European Society of Cardiology. He was also the coordinator and director of the nation-wide network of excellence and competence for cardiovascular disorders (atrial fibrillation), and he has worked at University Hospital Münster for 20 years in the Department of Internal Medicine, where he has been responsible both for patient care and academic teaching. He has also been assistant professor at University St. Gallen (CH)for 20 years.
Since 2008, Dr. Richard Ammer has been Assistant Chair of the Board at the Bundesverband der Pharmazeutischen Industrie BPI e.V. [German Pharmaceutical Industry Association].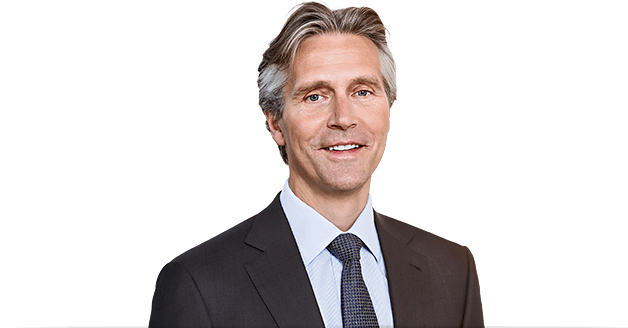 Dr. Jürgen Kreimeyer
Dr. Jürgen Kreimeyer has been Director of Marketing and Sales (OTC/OTX, Rx products) and Medical Science (OTC) since 2014.
Dr. Jürgen Kreimeyer was born on 6 July 1964 in Münster, and he is a licensed pharmacist. He completed his dissertation at the University of Münster's Institute for Pharmaceutical Biology and Phytochemistry.
Dr. Kreimeyer enjoys many years of experience in communications management. After setting up and then selling an advertising agency while still writing his PhD, he joined the herbal remedy manufacturer Sertürner Arzneimittel as Head of Marketing and was subsequently involved in founding the startup company Redinomedica AG in the capacity as a member of the Board and Chair of Marketing and Sales.
Dr. Kreimeyer sold his Redinomedica shares and then, as marketing director for 11 years, influenced marketing at MCM Klosterfrau, until at the end of 2012 he once again made the decision to become independent and founded Kreimeyer Consulting GmbH. Through his work as a consultant he gained deeper insight into MEDICE and the possibilities it offered.
For many years, Dr. Kreimeyer has been committed to ensuring a good image for self-medication. Since 2002, he has been a member of the communication and public relations committee of the BAH [German federal association of pharmaceutical manufacturers], and he was considerably involved in the campaign initiated by the BAH for 'green prescriptions'.
In recognition of his commitment to the BAH, he received the Hans W. Bach medal for merit in 2010. Dr. Kreimeyer has been a member of the executive board of the BAH since 2015.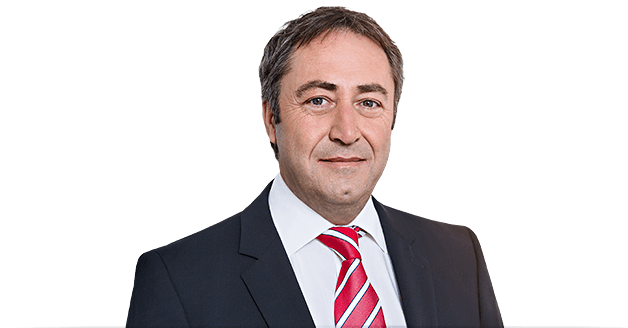 Eric Neyret
Eric Neyret has been Director of Finance, Controlling and Administration since 2012.
Eric Neyret was born in Lyon (France) in 1964, where he also graduated in Politics, with a specialism in economics.
After completing his education, he worked for many years in international pharmaceutical companies. In this time, his work focused on establishing regional organisations to increase the international presence of the companies, and on developing the structures necessary in the wake of this company expansion, as well as on commercial projects.
Most recently, as Vice-Chair of Finance & Services – CFO Europe, he directed the Controlling, Finance, IT and Purchasing departments of an international pharmaceutical company.
MEDICE's international expansion and dramatic growth in recent years has required new national and international structures to be set up, and Eric Neyret has been able to accomplish this successfully at MEDICE thanks to his many years of experience.